As much as I wish it wasn't so, some important trends are in the wrong direction.
New COVID – 19 cases here in Florida are trending to a material new high.
Contrary to what some seem to blindly say; it isn't because of more testing.
In Florida, testing slowed down 3% while new cases grew 88% over the last week.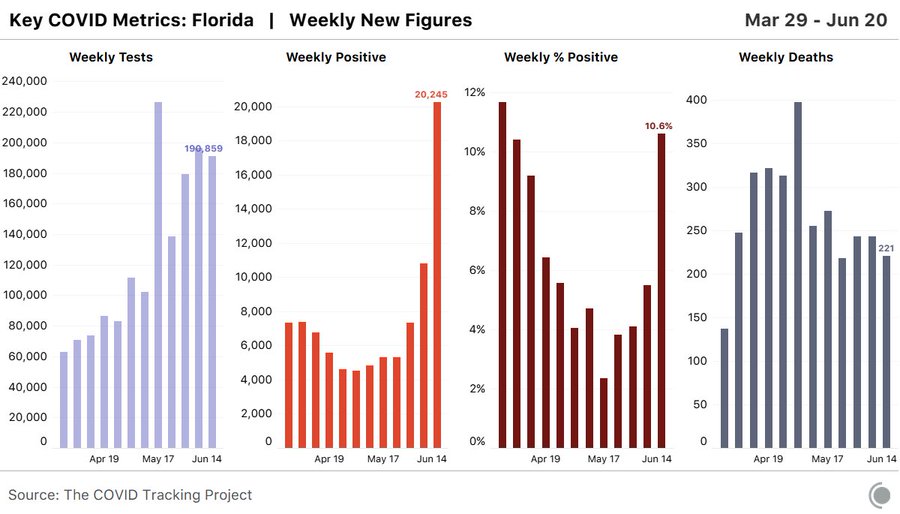 Yesterday, Governor Ron DeSantis acknowledged that the rising number of new Covid-19 cases in Florida cannot be explained away by an increase in testing, and announced plans to step up enforcement of social distancing practices in bars and nightclubs in "DeSantis pivots on Covid-19 surge, says testing doesn't account for spike."
"Even with the testing increasing or being flat, the number of people testing positive is accelerating faster than that," DeSantis told reporters during a briefing at the state Capitol. "You know that's evidence that there's transmission within those communities."
Of course, it isn't just Florida.
As of today, US Coronavirus Tests Administered is at a current level of 26.57 million, up from 25.98 million yesterday. It's a change of 2.25% from yesterday.
US Coronavirus Cases is at a current level of 2.255 million, up from 2.223 million yesterday, which is a change of 1.46% from yesterday.
Here are the absolute trends in comparison.
The good news is the spread between US Coronavirus Tests and Cases is in an uptrend, so negative tests overwhelm positive test results.
We can use a ratio chart to see the relative trend in cases and tests. I do the same with global market trends. For example, we can compare the US Energy sector to the S&P 500 to see the relative strength or weakness. When the trend is down as it is here, the sector is lagging.
Here is a simple analog chart comparison.
In contrast, the Technology sector has been relatively stronger than the S&P 500 stock index.
And the relative strength ratio between Technology and the broader stock market index shows the opposite trend than what we saw from Energy.
So, back to the COVID trend, taking this same ratio methodology applied to tests and cases, the relative trend is down, so cases are lagging tests by a material amount. We want to see this trend continue.
So far, states have reported 630 deaths and the trend is down, so we are seeing a national decline. Death reporting lags approximately 28 days from symptom onset, according to CDC models that consider lags in symptoms, time in hospital, and the death reporting process.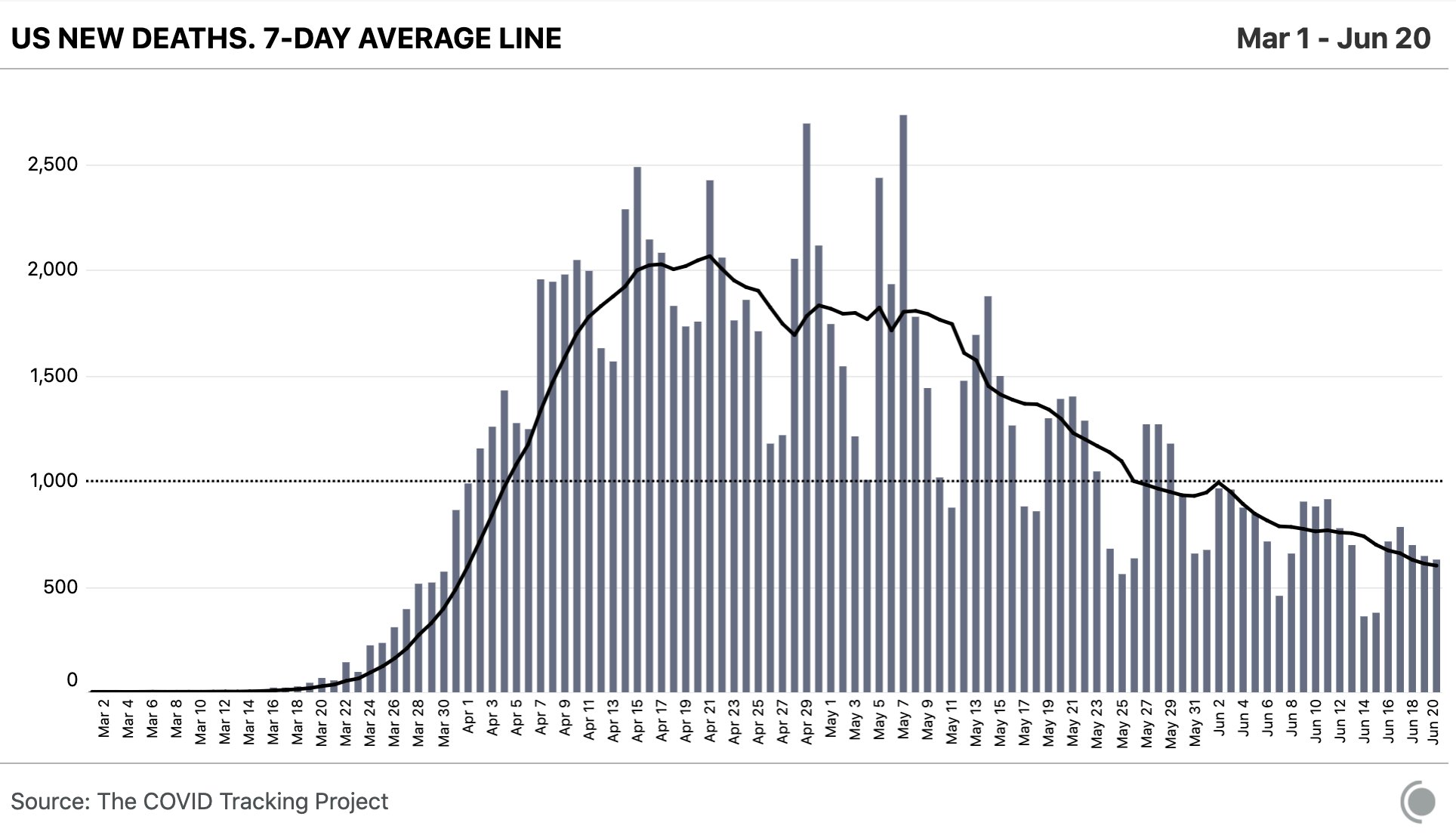 So, that's the good news.
What I believe people will increasingly focus on is the breakout in new cases per day. Many trackers are normalizing the trend with a 7 day moving average, but the data already has a natural lag between contraction, testing, a positive case, so I'm not adding one myself.
Instead, I want to see a new breakout as soon as it develops. If we wait for a 7 day moving average new high, the lag will delay noticing the breakout.
I pointed out over a week ago I'm seeing new breakouts to the upside.
I'm still seeing new breakouts in cases per day.
I pointed out Florida, Arizona, and Texas. Now add Georgia.
And it isn't just more testing in Georgia.
California is still trending up, and although their testing is rising, it isn't just an increase in tests.
Oklahoma cases have now broken out into an uptrend. Again, the new high in cases per day doesn't correspond to a new high in testing.
We're seeing breakouts in other countries, too, such as Brazil.
Others like Russia have peaked and are drifting down.
So, there's the trends.
What about the momentum of the trend?
Just as I have proprietary momentum and relative strength algorithms to define the speed of a price trend in global markets, they also have a measure of the speed of the COVID – 19 trend.
The values for Rt is a key measure of how fast the virus is growing. It's the average number of people who become infected by an infectious person. If Rt is above 1.0, the virus will spread quickly. When Rt is below 1.0, the virus will stop spreading. Projecting the reproduction number is essential to understand how explosive an uptrend in new cases may be.
The Rt for Florida is 1.39, so it's likely to spread relatively fast and we'll see cases trend up as the new cases are spreading it to others. Florida has been in the top five of all states since I've been monitoring it.
Hawaii has the highest reproduction number in the United States.
Tennessee hasn't been spreading it as fast.
The Rt for New York was as high as 2 early on, so a person who contracted the virus spread it to about two more, but it has slowed.
The states with the lowest Rt levels are in the north right now and the highest are in the south, or the warmest climates.
So much for the theory that heat will smoother the Coronavirus. It doesn't seem to be the case.
Here are all of the states ranked from lowest to highest R.
Here are the Southern states. Most are in the red zone.
Next is the Northeast, who has maintained the most aggressive shelter in place and such.
Does this mean it's working? Well, yes, if you aren't around people, the spread will slow. However, only time will tell if these more city like areas come back sharply once they are back to full production.
By the way, here are the states that never sheltered.
So, we should prepare for the media to increasingly make this a big story again. As I see it, the odds of catching it is relatively low if less than 1% of the population has it. The trouble is, without testing everyone, we don't know the positive rate. Right now the positive rate in Florida is increasing at 12%.
We should also prepare for the likelihood the stock market will eventually respond to these rising trends in new cases and the possibility of fear driving the stock market down again.
Although, it isn't just a reaction to the continuation of COVID, but also the high risk level of the stock market.
The stock market is at an elevated risk level based on both fundamental valuation and quantitative momentum measures.
The S&P 500 Shiller CAPE Ratio, also known as the Cyclically Adjusted Price-Earnings ratio, is defined as the ratio the the S&P 500's current price divided by the 10-year moving average of inflation-adjusted earnings. The metric was invented by American economist Robert Shiller and has become a popular way to understand long-term stock market valuations. It is used as a valuation metric to forecast future returns, where a higher CAPE ratio could reflect lower returns over the next couple of decades, whereas a lower CAPE ratio could reflect higher returns over the next couple of decades, as the ratio reverts back to the mean.
S&P 500 Shiller CAPE Ratio is at a current level of 27.64, up from 26.03 last month and down from 29.24 one year ago. This is a change of 6.18% from last month and -5.48% from one year ago. It remains well above average and it's at the third highest level it has ever been. These trends in valuation get resolved eventually, even if the Fed is trying to support stable prices.
The short term relative strength reading the speed and magnitude of the moves isn't as overbought as it was when I pointed it out two weeks ago, but it's also far from oversold.
Let's see how it all unfolds from here.
Let us know if we can help here.
Join 39,643 other followers
Mike Shell is the Founder and Chief Investment Officer of Shell Capital Management, LLC, and the portfolio manager of ASYMMETRY® Global Tactical. Mike Shell and Shell Capital Management, LLC is a registered investment advisor focused on asymmetric risk-reward and absolute return strategies and provides investment advice and portfolio management only to clients with a signed and executed investment management agreement. The observations shared on this website are for general information only and should not be construed as advice to buy or sell any security. Securities reflected are not intended to represent any client holdings or any recommendations made by the firm. Any opinions expressed may change as subsequent conditions change. Do not make any investment decisions based on such information as it is subject to change. Investing involves risk, including the potential loss of principal an investor must be willing to bear. Past performance is no guarantee of future results. All information and data are deemed reliable but is not guaranteed and should be independently verified. The presence of this website on the Internet shall in no direct or indirect way raise an implication that Shell Capital Management, LLC is offering to sell or soliciting to sell advisory services to residents of any state in which the firm is not registered as an investment advisor. The views and opinions expressed in ASYMMETRY® Observations are those of the authors and do not necessarily reflect a position of Shell Capital Management, LLC. The use of this website is subject to its terms and conditions.