The energy sector is the most oversold so far.
By oversold, I mean a condition where there has been enough selling pressure to drive prices down to low enough levels which overextended or excessive on a short-term basis, suggesting the downtrend could be an overreaction. When price trends overreact in the short-term by moving potentially too far, too fast, the trend becomes likely to reverse back up, at least temporarily. Afterward a countertrend back up, however, a short-term oversold trend may later reverse down again in continuation of a downtrend. So, observing a short-term oversold condition may not result in a long-term trend reversal up, but instead, my increase the odds of a short-term retracement. In the chart below of the energy sector index, we see an overall downtrend since the price on the left side is higher than the right a year later, however, we also observe the price swings along the way, which are shorter-term overbought/oversold countertrends.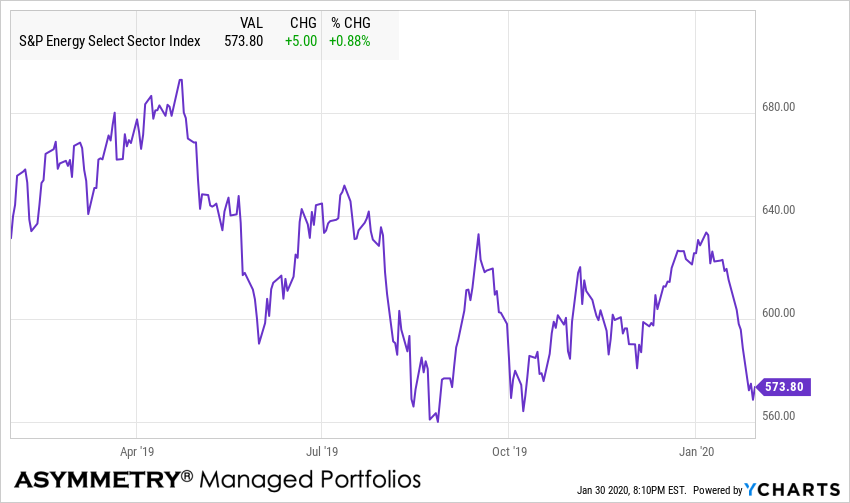 Energy sector is -43% from its early 2014 high.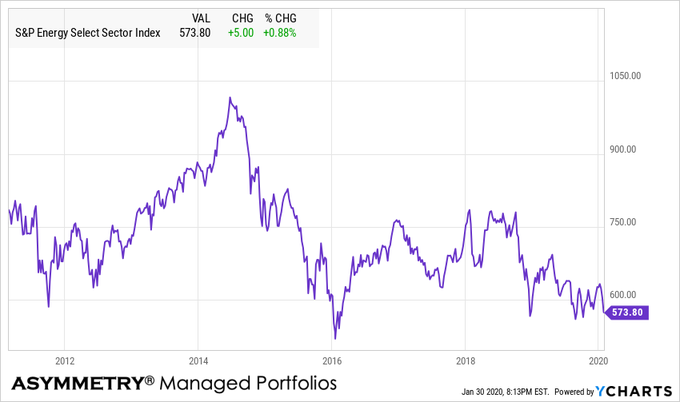 Energy sector is almost near its 2016 low.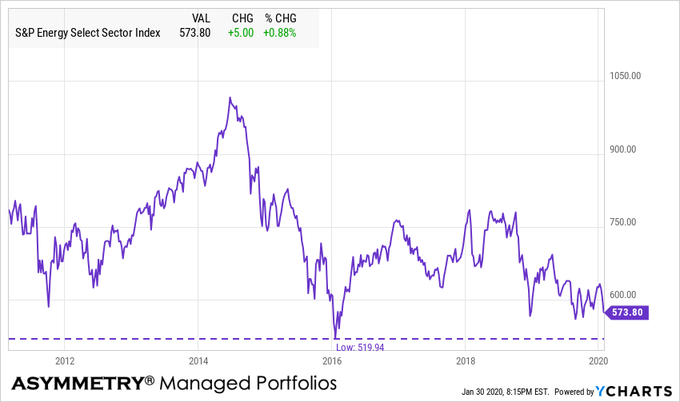 Energy implied volatility is relatively low and below average.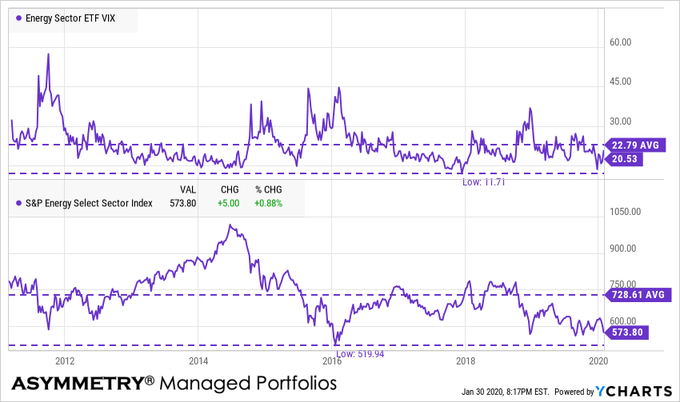 Alerian MLP energy index is at a new low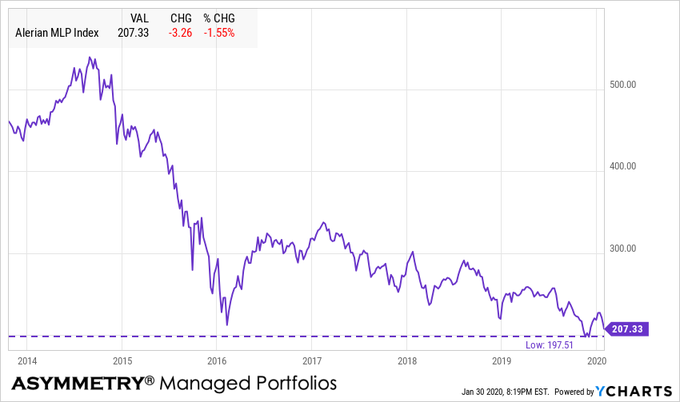 With the energy sector momentum signaling its price trend may have dropped too far, too fast,  the dividend yield on the MLP index is at its high post-2016 at over 9%.
As the price falls, the dividend rises from that starting point, so it's the one time we apply countertrend systems to capture future income from dividends. I wouldn't be surprised to see the energy sector catch some buying enthusiasm soon if the overall stock market can hold up. Sometimes the weakest sectors show strength even as other sectors fall.  Of course, the risk of a falling trend is it may keep falling and they can trend down far more than expected. The trouble is, when a trend does fall more than expected, it results in serial correlation; prices keep falling because, well, prices are falling! Waterfall declines are contagious, so you can probably see the 'risk premium' involved in this high dividend yield. There is no free lunch and nothing is without risks.  I deal with risks by managing them through predefined exits, drawdown controls, and hedging.
So, I probably enter and exit a more global opportunity set of markets than most do since the risk for me is how I define it and how the position is structured, not the security itself.
I'm off to the Super Bowl in the morning! Unfortunately, my Tennessee Titans didn't make it and my Tampa Bay Bucs didn't come close, but I'll be there anyway.
Mike Shell is the Founder and Chief Investment Officer of Shell Capital Management, LLC, and the portfolio manager of ASYMMETRY® Global Tactical. Mike Shell and Shell Capital Management, LLC is a registered investment advisor in Florida, Tennessee, and Texas focused on asymmetric risk-reward and absolute return strategies and provides investment advice and portfolio management only to clients with a signed and executed investment management agreement. The observations shared on this website are for general information only and should not be construed as advice to buy or sell any security. Securities reflected are not intended to represent any client holdings or any recommendations made by the firm. Any opinions expressed may change as subsequent conditions change.  Do not make any investment decisions based on such information as it is subject to change. Investing involves risk, including the potential loss of principal an investor must be willing to bear. Past performance is no guarantee of future results. All information and data are deemed reliable but is not guaranteed and should be independently verified. The presence of this website on the Internet shall in no direct or indirect way raise an implication that Shell Capital Management, LLC is offering to sell or soliciting to sell advisory services to residents of any state in which the firm is not registered as an investment advisor. The views and opinions expressed in ASYMMETRY® Observations are those of the authors and do not necessarily reflect a position of  Shell Capital Management, LLC. The use of this website is subject to its terms and conditions.