The US Unemployment Rate measures the percentage of total employees in the United States that are a part of the labor force, but are without a job. It's one of the most widely followed indicators of the health of the US labor market and the US economy as a whole.
Historically, the US Unemployment Rate reached as high as 10.80% in 1982 and 9.9% in November of 2009, which were recessionary periods.
The US Unemployment Rate is at 8.40%, compared to 10.20% last month and 3.70% this time last year.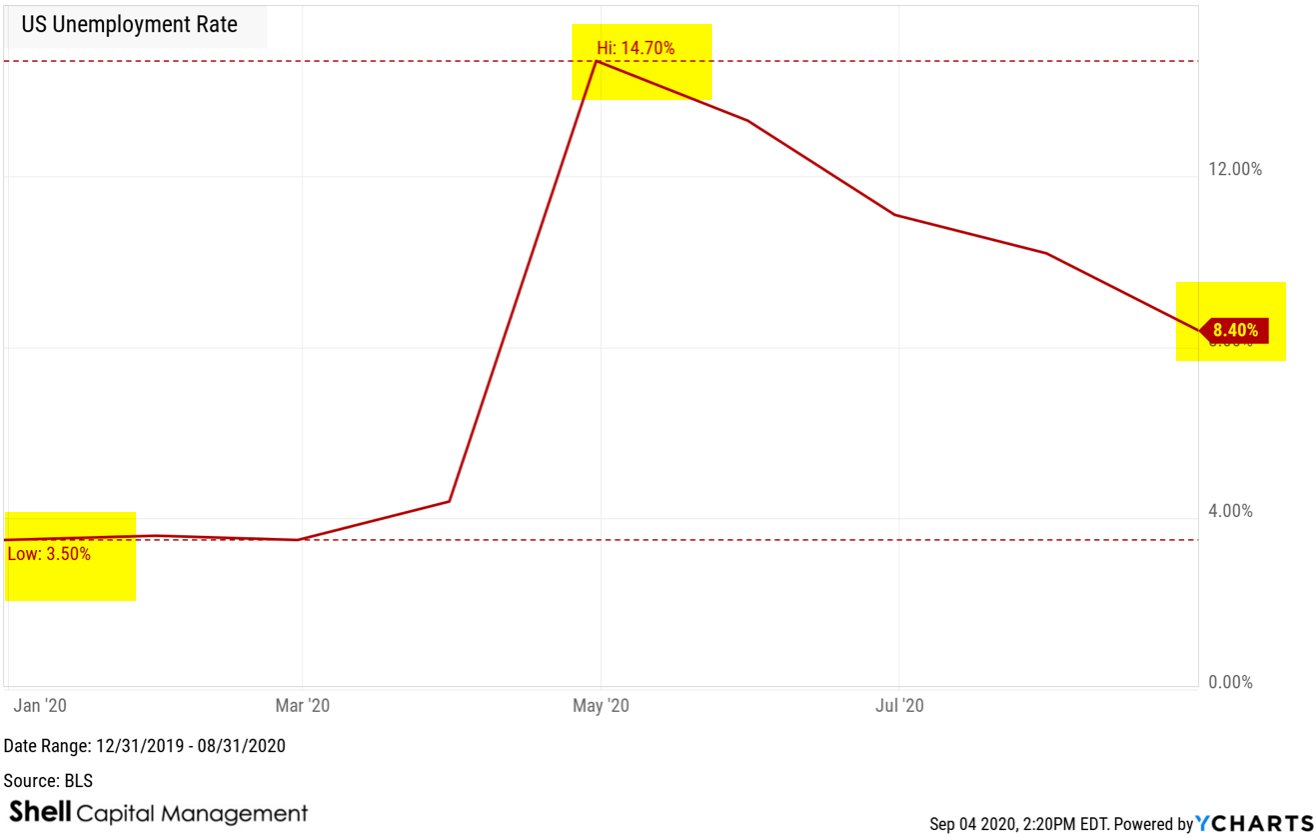 US Unemployment Rate remains significantly higher than the long term average of 5.76%.
The US Labor Force Participation Rate from the Bureau of Labor Statistics is the sum of total number of employed persons and unemployed persons looking for work in the United States as a percentage of the working age population.
US Labor Force Participation Rate is at 61.70%, compared to 61.40% last month and 63.20% this time last year.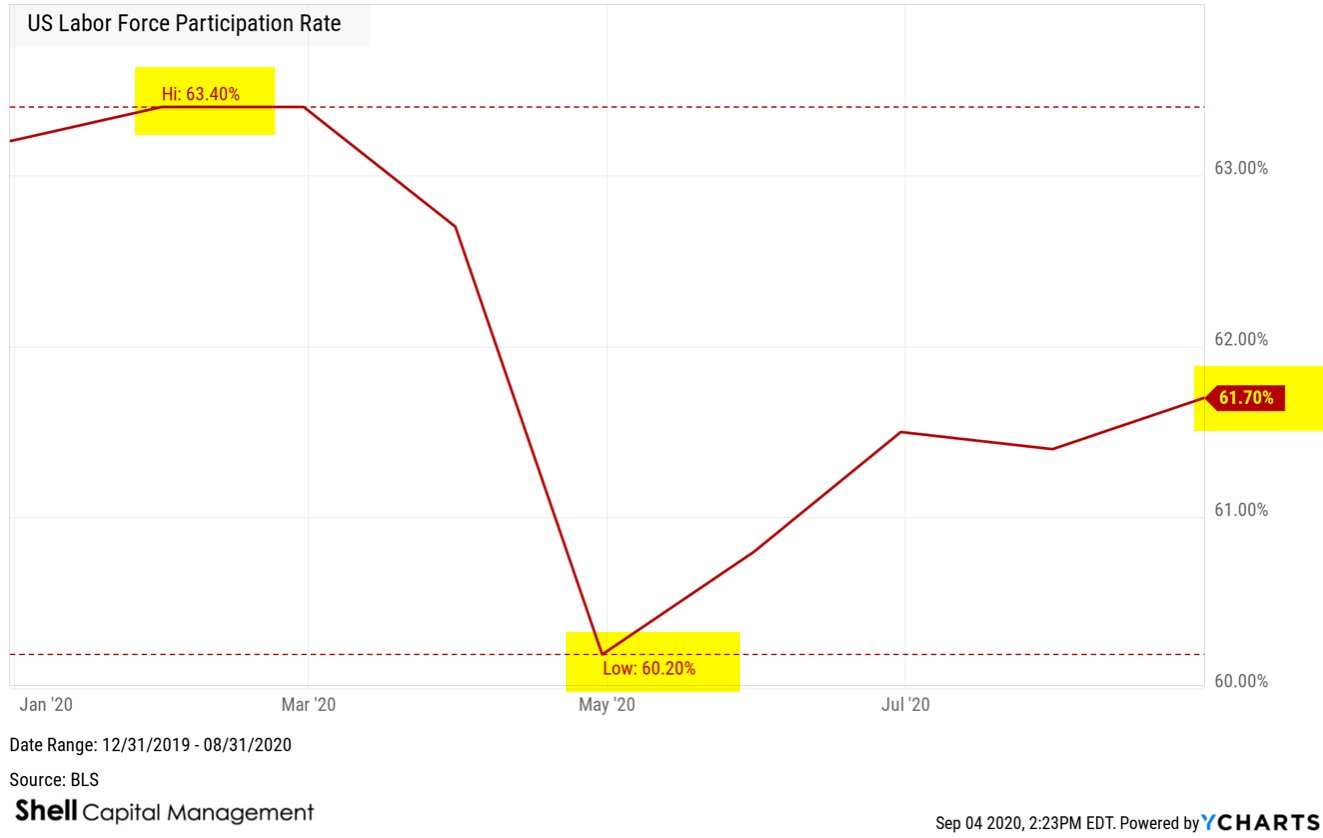 Looking at the bigger picture over a longer time frame, there has been a negative trend from the 2000s of 67.10% participation to the 2010s 62.50% participation as the boomer generation has begun shifting out of the working age population.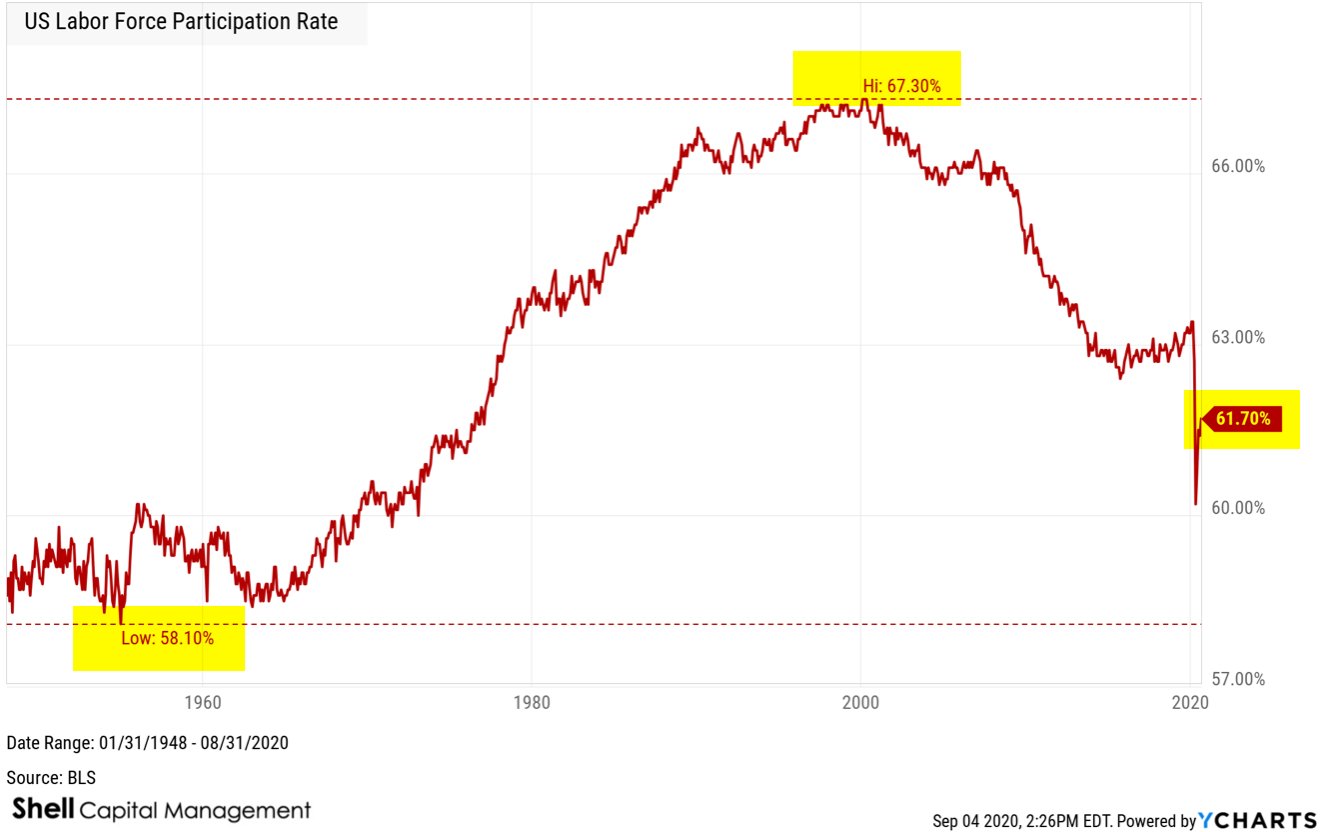 In bad economic conditions, the labor force participation rate may actually fall as people eventually give up looking for a job.
So, the employment situation seems to be improving, but we're likely to see some of these job losses become permanent.
Mike Shell is the Founder and Chief Investment Officer of Shell Capital Management, LLC, and the portfolio manager of ASYMMETRY® Global Tactical. Mike Shell and Shell Capital Management, LLC is a registered investment advisor focused on asymmetric risk-reward and absolute return strategies and provides investment advice and portfolio management only to clients with a signed and executed investment management agreement. The observations shared on this website are for general information only and should not be construed as advice to buy or sell any security. Securities reflected are not intended to represent any client holdings or any recommendations made by the firm. Any opinions expressed may change as subsequent conditions change.  Do not make any investment decisions based on such information as it is subject to change. Investing involves risk, including the potential loss of principal an investor must be willing to bear. Past performance is no guarantee of future results. All information and data are deemed reliable but is not guaranteed and should be independently verified. The presence of this website on the Internet shall in no direct or indirect way raise an implication that Shell Capital Management, LLC is offering to sell or soliciting to sell advisory services to residents of any state in which the firm is not registered as an investment advisor. The views and opinions expressed in ASYMMETRY® Observations are those of the authors and do not necessarily reflect a position of  Shell Capital Management, LLC. The use of this website is subject to its terms and conditions.